The V&A venue stands proud as an iconic location for events and hardly needs an introduction.  The Grade I listed museum's luxurious decor provides the perfect backdrop to luxury events and few other London venues can match the V&A's history or its extraordinary collection.
But what's it like to work in such an atmospheric venue hosting some of the most beautiful events in the industry? We spoke to Nathalie Glaser, Head of Corporate Events, to get the insider's scoop.
Running events at the V&A is many people's dream job; how did you get there?
I've worked in arts and heritage my whole career, starting as an 'arts officer' in Tel Aviv at the British Council, and when I returned to UK, joined the (then) Tate Gallery just before Tate Modern opened. I remember working on 8 events in one week (including the big 3000 people opening party for Tate Modern) and that's when I realised I loved working in events! Since then, I've worked at the Royal Academy, The British Museum and ran a conference Centre. I've worked at the V&A since 2012 and love it here.
The V&A is a unique gem with extraordinary rooms. What spaces are available for events?
We've got lots of lovely spaces for events. The Dome is our 'bread and butter' space for having a roaring party – we can fit up to 850 guests using it and the adjacent Medieval and Renaissance Galleries. During the summer months, our garden is glorious, filled with beautiful blue hydrangeas and with a lovely fountain and pond. Our last 'big' space is the Raphael Gallery, which houses the Raphael Cartoons; THE treasure of the Museum. It's a cathedral size space and works beautifully for a big dinner for up to 400. We've got lots of other smaller spaces (the Paintings Gallery, the Prince Consort Room, Silver Galleries) but I'm running out of space…!
One of the most exciting things about events at the V&A is the ability to tie it in with the latest exhibition. What experiences do you offer?
We open our world-class exhibitions to guests for a private view. When you have exhibitions like the recent McQueen or Dior show, which are sold out during the day, access feels like an incredible privilege for your guests and a real pull to get them to the party. We also offer our wonderful guides for either formal or informal tours of the show during the party, to enhance the experience.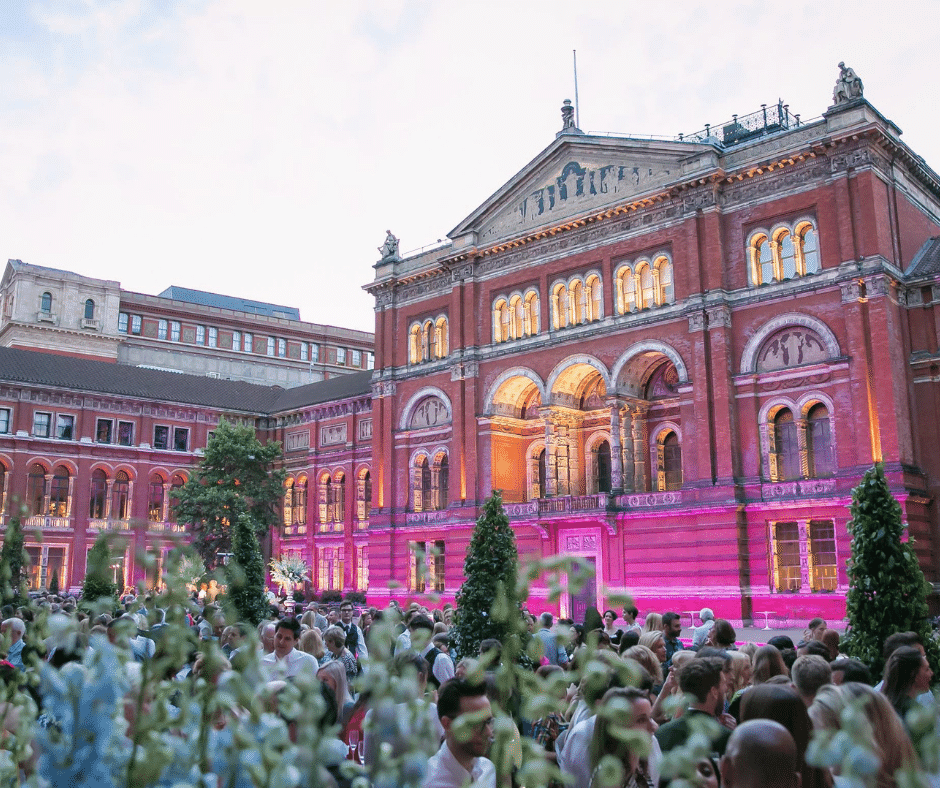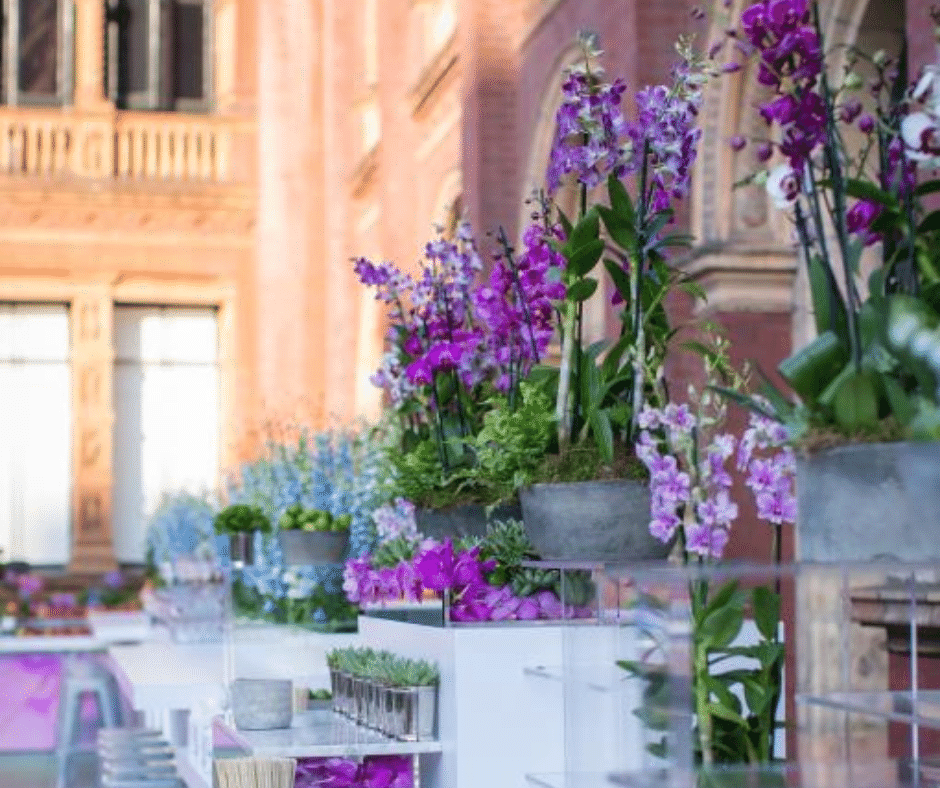 You have an incredible team of suppliers. How does their styling enhance your events?
We've had some amazing themed parties. My favourite has included a huge pink skull made of flowers (for McQueen) and another McQueen party that included stuffed (fake I hope) blackbirds in cages, jewelled skulls and other slightly macabre ephemeral. For our Frida Kahlo exhibition, we had a party that had beautiful desert bars in jewel colours complete with meringue cactuses. My favourite 'themed' party so far was one we threw to advertise our Alice exhibition (opening Spring 21') which included fantastic 'eat me, drink me' deserts and gin served in teapots…huge fun!
What are the biggest challenges about hosting an event at the V&A?
Hosting an event in a Museum is only a challenge if you aren't organised. Once you can show the curators, the conservators, the security people, that it's 'safe' to hold an event (and build a kitchen) surrounded by priceless works of art owned by the nation – you are halfway there! We only use suppliers that we know well, that have satisfied an exhaustive list of criteria allowing them to work around art works. We make sure they are properly trained and we meet with them yearly to assess their work in the Museum and to update them on new guidelines.
If you could hold an event anywhere in the museum where would it be?
Oooh – tough one. I'd love to hold events in the Norfolk House Music Room – a jewel box of a room build in the 1700s that was 'saved for the nation' when the Duke of Norfolk's celebrated townhouse in St James' Square was demolished in 1938. It's a gorgeous wood pannelled room which would look divine for a small dinner..but alas, the curators would never allow it.
Whilst large events are on hold what have you been working on?
We are working with artists doing live stream and filming. We recently did a hugely successful live stream for Ellie Goulding and just hosted Michael Kiwanuka filming his new song in the Paintings Gallery. We'd love to see events in real life but we'll settle for these great pieces of business!
I hope to see events starting up again in Spring. The V&A is blessed with a beautiful garden that can accommodate over 800 so perfect for a big event and even better for a social distanced, outside smaller one.
The V&A, rightly, have an amazing Instagram page and we've just launched our Events account. We're working hard to make sure out little events one lives up to it's parent! We hope to showcase all types of events and contractors we've worked with.
What plans are there to open the Alice exhibition?
So Alice: Curiouser and Curiouser opens to the public on 27 March 2021 and it's going to be fab. Tickets will be going on sale in October and we'd love to see clients booking events in the garden and private views over the summer..
Do you have a favourite space at the museum?
I love the beauty and majesty of the Cast Courts. The Victorians had it right (and it works in a pandemic too). If you can't get to Europe – then let Europe be recreated in South Ken. You can visit plaster cast copies (made in Victorian times) of Michelangelo's David and Trajan's Column in Rome.
Do you have any advice about how to create a memorable experience?
It's all about the people you invite. It sounds trite but perhaps at this time above all others, when we are limited in who we can see and how many friends we can meet with – it's all about who comes to your party. Your event can be worth a million dollars, but if there is no one fun to talk too or look at..it's a bit meh!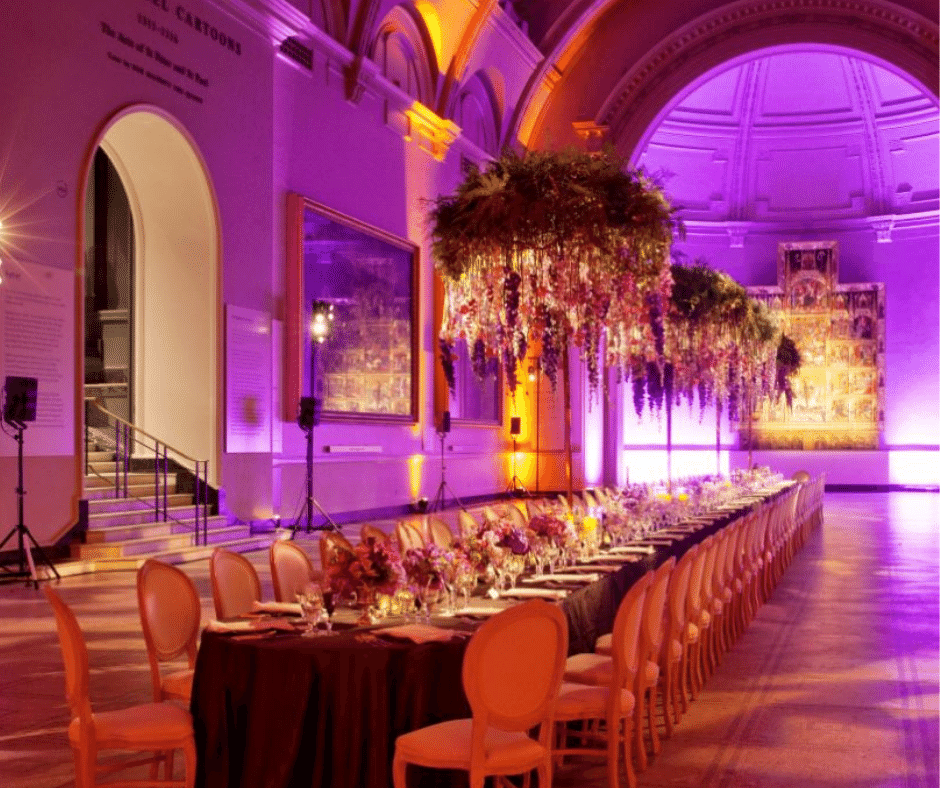 ---
To find out more about holding events and V&A venue hire visit their website or follow them on Instagram.
---
If you don't want miss out on more event inspiration and news sign up here to our newsletter, Eventspiration.
It's a bi-monthly summary about what's happening in the events world including industry news, key trends & styling tips, venue profiles and interviews with event experts and helps event professionals stay ahead.
---
At Evolve we regularly share news about latest venues, styles and events on our blog and social media. You can visit our blog here and follow us at @evolveevents.
To get more ideas or help with your event talk to the team on 020 7610 2808 or email info@evolve-events.com
DISCOVER MORE CREATIVE EVENT COMPANIES THAT WE LOVE BELOW