London florist Hazel Gardiner knows a thing or two about how to create a stylish floral statement that's also sustainable.
Known for her innovative arrangements for weddings, events, editorials and more, Hazel Gardiner is passionate about using British flowers and sustainable floristry methods. Her background in fashion and event management give her an intrinsic knowledge of how flowers can be used to bring an event to life, and her unique style of mixing bespoke materials has seen her skills in demand from brands such as SpaceNK whilst her weddings are regularly featured in the likes of Rock n Roll Bride and Love My Dress.
Her passion for flowers and design shines through everything she does, as you'll see in the inspiring chat we had with her recently. Read on to find out more.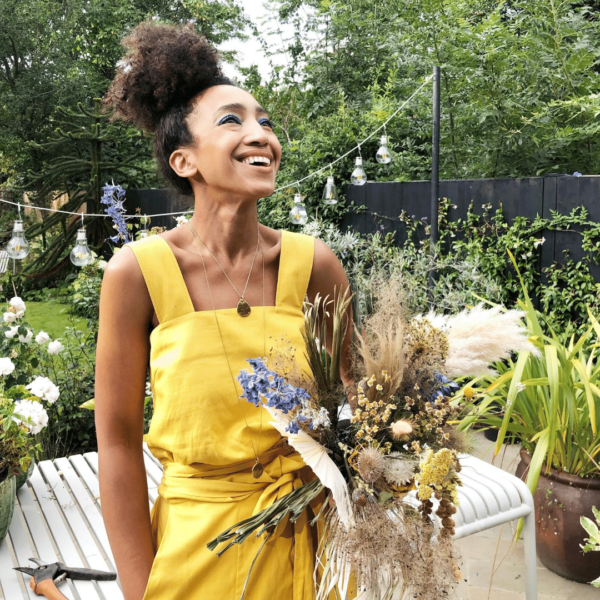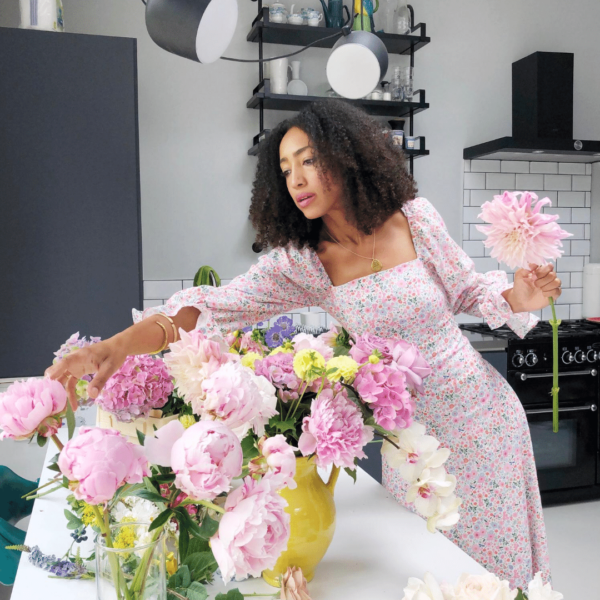 We have to start by asking how you've been coping during lockdown
The business growth I experienced over the last 12 months had solidified relationships with the brands, event and PR companies that I work with. This really helped with communication as we are all supporting each other. That said, I had some incredible projects lined up which vanished overnight. My main concern shifted from the business to the health of friends and family. I've tried to keep positive and pivot the business into different areas such bouquet deliveries. Starting my previous business in the storm of the recession gave me some perspective and emotional armour. The Black Lives Matter movement, in particular #blackouttuesday shone a huge, unexpected, light on the business. Out of tragedy this activism has fundamentally changed the landscape for many black owned businesses. New opportunities and client partnerships have arisen for me which is incredible. It has been a testing time; definitely a roller coaster of emotions.
For those that don't know you, can tell us a bit about your background?
I studied Fashion Journalism and Broadcast at the London College of Fashion after which I worked in music television production. This was exhilarating and I worked closely with many musical idols and experienced some life changing moments. The hours were long and the stress high. After a cancer diagnosis I was forced to reassess my priorities, which propelled me to launch my first business; a vintage clothing and events company. After many years I was yearning for a career change and to work with my hands, Hazel Gardiner Design was born.
How did you make the change to working with flowers?
I knew that I wanted to remain self-employed, but it took a while to feel the fear and make the jump. I had a proven background in the fashion industry so launching my first business was less of a stretch in terms of confidence. Flowers, nature, and the outdoors gave me so much solace and enrichment before, during and after my illness. This magnified my resolve to work in horticulture and specifically with flowers. Floral design is a natural extension of my styling experience but using a different medium.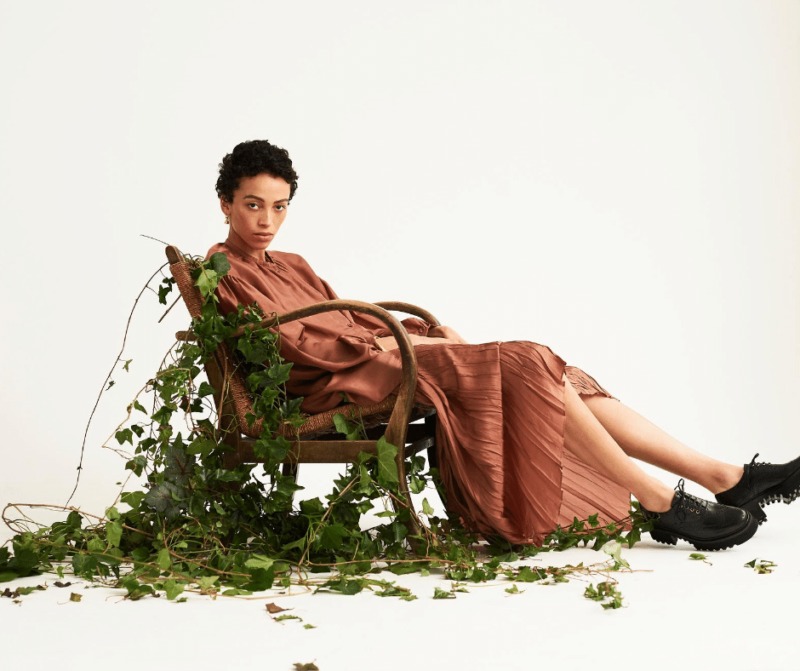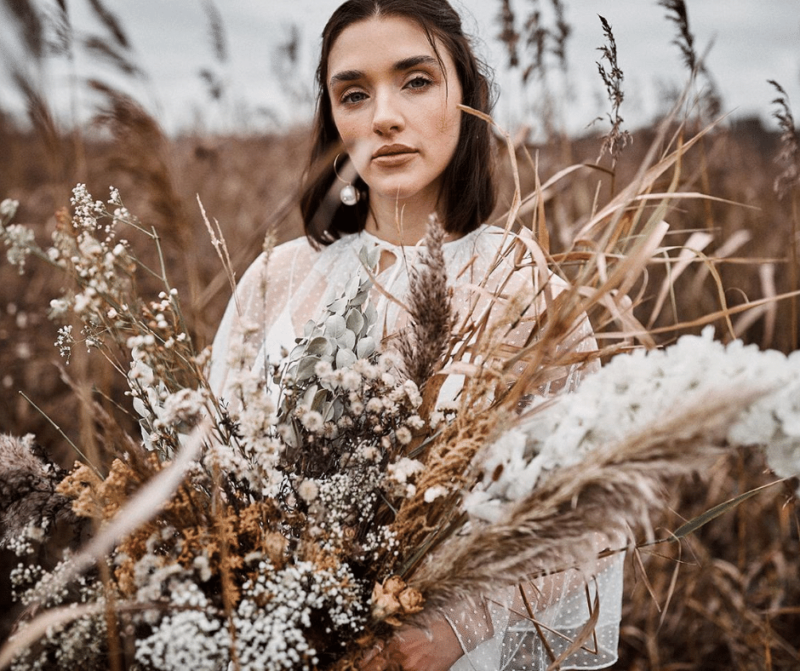 We love the different textures you create in your designs. How would you describe your style?
I love using seasonal flowers; my priority is to be as sustainable as possible with little wastage. We need to educate others on the importance of providence and seasonality, much like the food industry. This steers my choices when it comes to designing. I use mixed materials such as dried, paper and silk flowers. I'm really open to how I create an installation in terms of elements. Fruit, plant leaves and vegetables have been known to sneak in. My style is exuberant, full of texture. I play with colour, movement and scale to create the unexpected.
A wedding is such an intimate event. How do you bring your client's personality into your arrangements?
I'm like an historian, finding out as much as I can about the clients before proposing ideas. Even those who say there aren't creative will make a hundred decisions a day based on their visual taste. We discuss their background, culture including evocative scents and memories. This perfectly informs my colour choices and designs combined with their current ideas. I am fastidious about accurately reflecting both personalities.
You've worked with some incredible brands. Can you tell us more about this side of your business?
I always knew early on that due to my background, events would be an area I wanted to cultivate immediately. I really enjoy translating a brief and it helps that my mind is constantly conjuring up ideas. I worked with brands including ASOS, Tate and Somerset House in my previous career so had experience cultivating brand relationships. I love the process of creating beautiful installations that flummox people in regards to how they were created. I think brands gravitate toward this. It's creating that memorable visual which adds real value to an event. I love working with independent brands such as King & Tuckfield and Daisy London, alongside larger brands such as Nike, Matches and Elemis. A highlight was creating a nationwide campaign for SpaceNK featuring also in their window visual merchandising displays, I am a huge beauty, MU and obviously fashion fan so fusing flowers with these industries is a dream.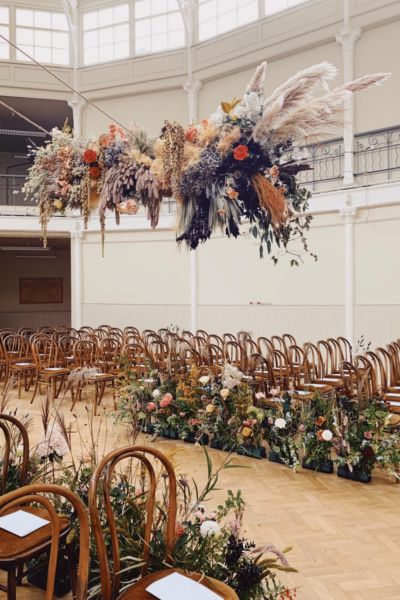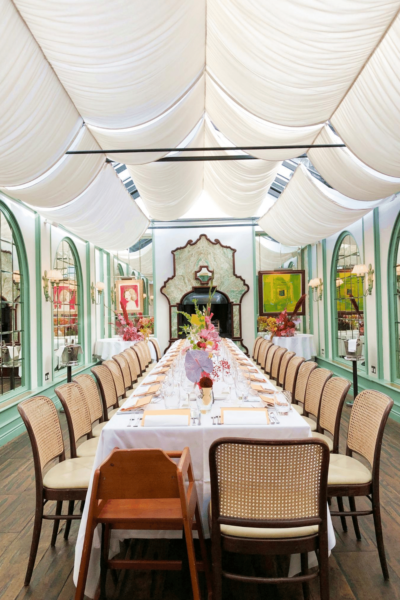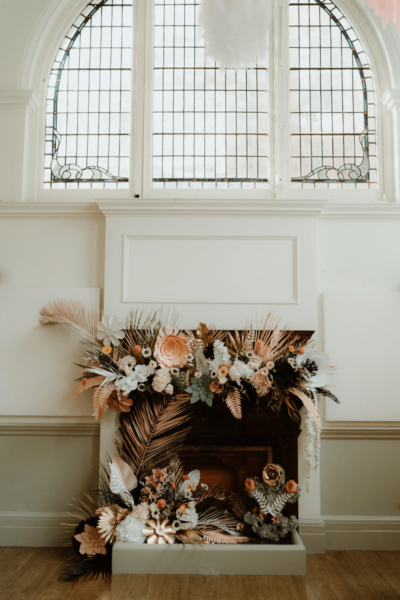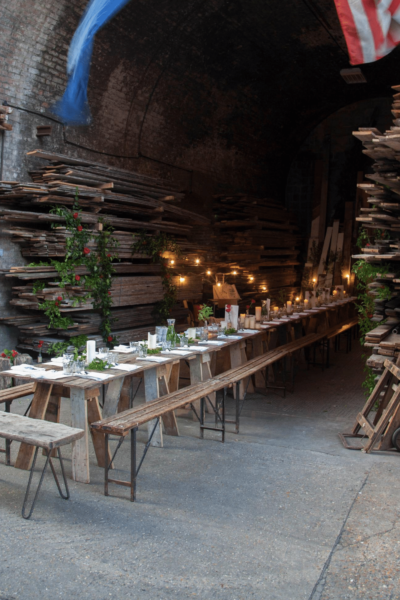 Championing sustainable floristry is clearly important to you. What steps do you think the industry take to be more sustainable?
Education. It's up to us to be brave and bold and explain why we are adapting. I know this has difficulties as you want to fulfil a client brief but nothing is impossible with clever choices. I no longer use floral form and I can still create long-lasting flower arrangements including feature walls. I've learnt new methods and mechanics and actually relish problem solving. Thankfully, many brands love this ingenuity and realise the added value of supporting sustainability, which is really encouraging.
You've worked in some incredible venues. How important is the setting to your work?
The setting feeds my imagination as much as the flowers themselves. I like everything to harmonise rather than fight against each other. My designs also take into consideration access, temperature, and light. This is where my production background really helps, working with a crew and events teams is so familiar to me. Not surprisingly I love working in environments that have natural elements such at the Barbican Conservatory or Sky Gardens. I do love a dramatic, industrial, backdrop such at JJ Media's Wimborne House and stately locations such as RSA House in Holborn.
Lots of couples have had to postpone their wedding day. How have you supported your clients?
I contacted them all immediately to say that I would be with them every step of the way. I also gave them practical advice and support from insurance to venue guidance.  The relationships with my wedding clients is cultivated from day one. This early and open communication really set the precedent and eased any questions they had.  I've had to strike a balance between maintaining capital coming into the business without putting any financial demands on clients who are were understandably worried and devastated.  Everyone has postponed so it's pause, rather than a full-stop.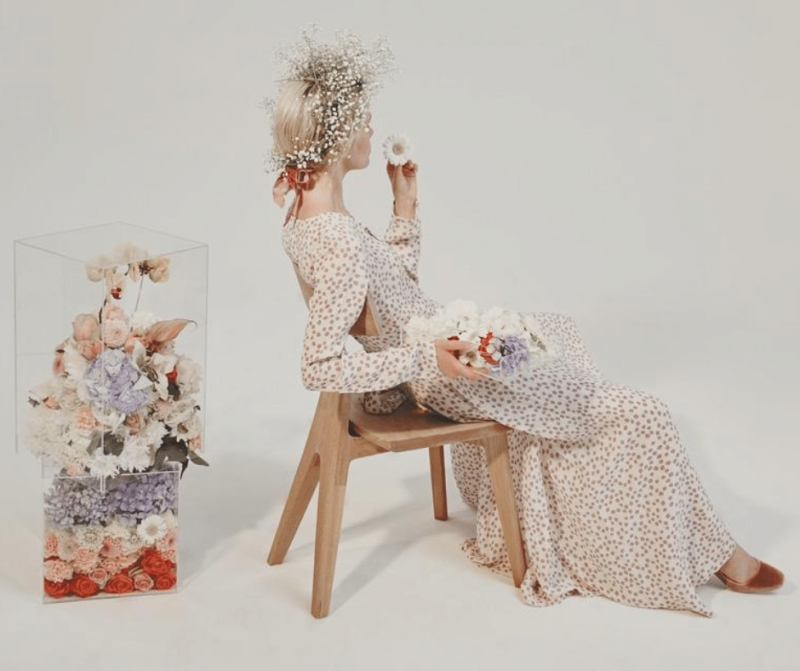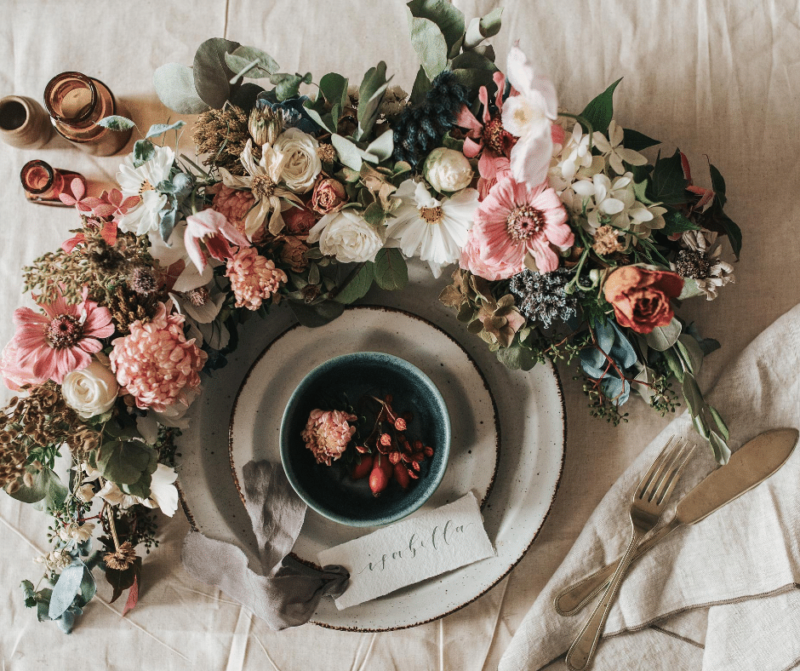 You're very generous in sharing your knowledge with workshops. What do you enjoy about this?
My Dad is a Professor so I think this is why love educating so much. Passing on a skill or knowledge is one of the most rewarding elements of my job. Sharing my passion for flowers whilst meeting people and hearing their stories renews my energy. I am working on Autumn / Christmas programming currently for both corporate and private clients.  I have lot of virtual options both pre-recorded and live. I also have a safe environment for smaller, in-person, workshops. My one-to-one floral tuition will begin again alongside joint workshops with some incredible artisans.  In 2021 I'm partnering with Us Programme. I'll be hosting free workshops to disadvantaged, young females, which will be an honour.
We love your Instagram feed; it's a fabulous mix of inspiration, support and tutorials. How important is it to you?
In terms of business it is vital. It has proven results in terms of customer engagement and driving sales. It is my shop window, as a studio florist this is even more relevant. It is the quickest way to story tell. People can immediately see not only my work, but my company ethos. I've been approached by customers and brands directly on the platform as well as meeting others in the BAME community who work in the events industry, which is powerful. IGTV allows me to offer free learning resources and talk about diversity with individuals such as renowned florist, Shane Connolly. It's an influential medium when used positively to share informed ideas and thoughts beyond imagery.
The event industry is made up of inspirational women. Who inspires you?
I definitely actively seek out and foster relationships with the women in my industry. Having space to share stories and challenges is vital for support. Women who inspire me are grower and writer, Claire Ratinon, Judy Berger and Becky Hoh-Hale, retail event entrepreneurs and Angel Adoree who I've known for many years before Escape to the Chateau reached our screens.
And finally, what are you most looking forward to as lock-down eases?
I'm obsessed with gardening, I realise the irony of this with my surname! I can't wait for small and formal gardens to be open again.  I really missed Chelsea and the National Garden Scheme this year. I can't wait to set-off early visiting regional plant fairs again; this my happy place.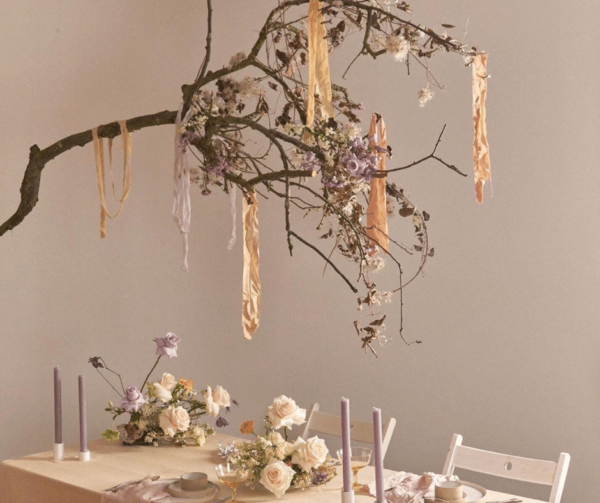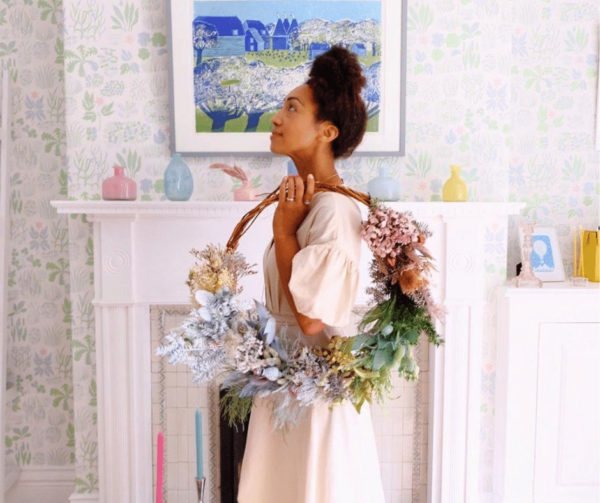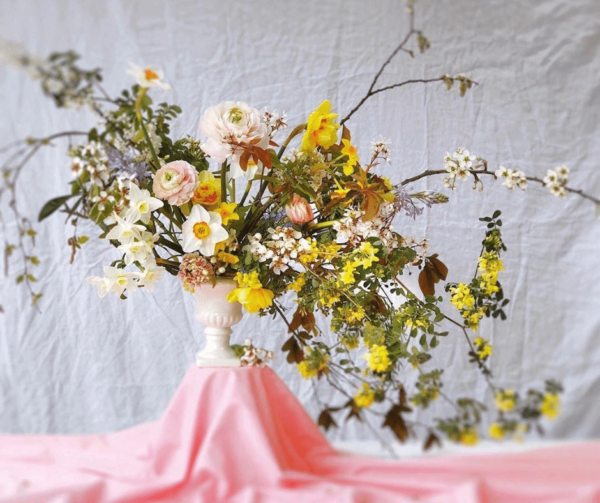 ---
To find out more about Hazel Gardiner visit her website or follow her on Instagram.
---
If you don't want miss out on more event inspiration and news sign up here to our newsletter, Eventspiration.
It's a bi-monthly summary about what's happening in the events world including industry news, key trends & styling tips, venue profiles and interviews with event experts and helps event professionals stay ahead.
---
At Evolve we regularly share news about latest venues, styles and events on our blog and social media. You can visit our blog here and follow us at @evolveevents.
To get more ideas or help with your event talk to the team on 020 7610 2808 or email info@evolve-events.com
DISCOVER MORE CREATIVE EVENT COMPANIES THAT WE LOVE BELOW