An unforgettable event needs an unforgettable venue.
Give your guests an event they will remember by hosting it at a beautiful venue. From beautiful lush gardens and industrial-chic spaces to historical sites brimming with history and character, check out some of London's most breathtaking venues below.
11 beautiful London venues for events.
Woolwich Town Hall
A magnificent Grade II listed building in the extravagant English Baroque style with a huge clock tower and the magnificent triple-domed Victoria Hall, featuring a beautiful ornate entrance hall and stained glass windows. The galleried hall has a grand staircase which divides in two below the Venetian window and features a pretty pink and white stucco ceiling.  Makes a sumptuous backdrop for wedding ceremonies.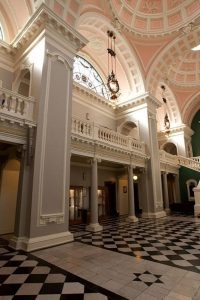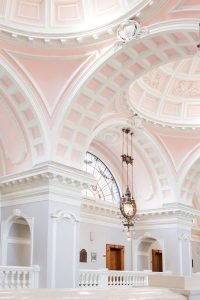 The Ned Venue Hire
Formerly home to the headquarters of Midland Bank the Ned is a Grade I-listed Art Deco masterpiece, designed by Sir Edwin 'Ned' Lutyens in 1924, which now oozes style. Left empty for five years, its modernisation is down to Soho House and Sydell Group who have collaborated on the design, pouring £200 million into the makeover and it has all the attention to detail that you would expect in a boutique hotel but executed on a grand scale. A variety of spaces, including two terraces, available for meetings, parties and weddings.
Eltham Palace
An extraordinary combination of grand medieval hall and modern 1930s Art Deco house make this a unique space for events. The circular wood-panelled entrance hall is a stunning setting for welcome drinks; you may recognise it from seen in The Crown when the Queen meets fashion designer Norman Hartnell  in his studio. The Medieval Hall is wonderful for larger events and has the added benefit of opening out directly onto the lawns.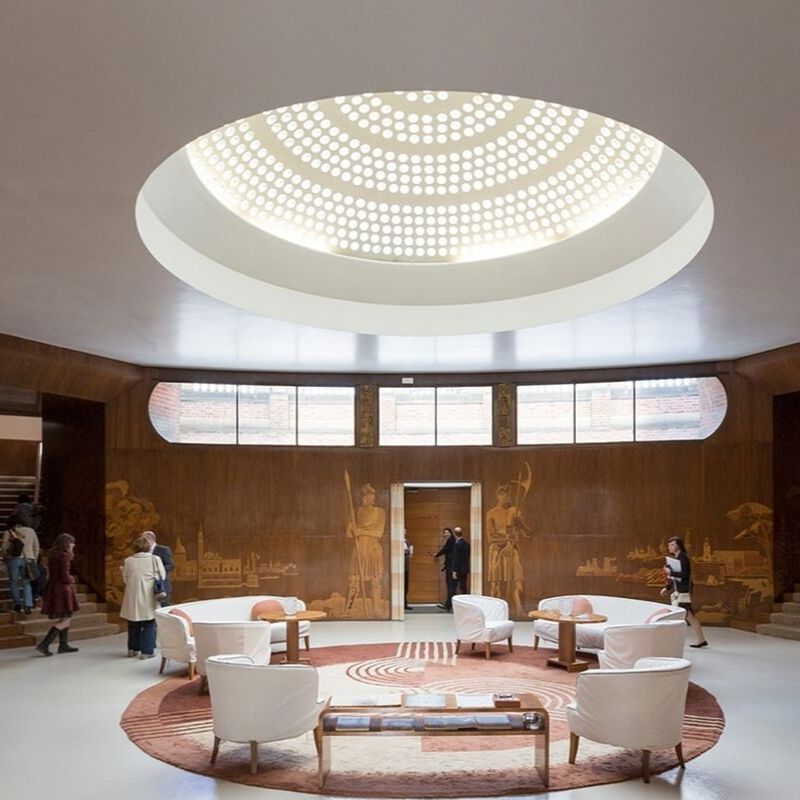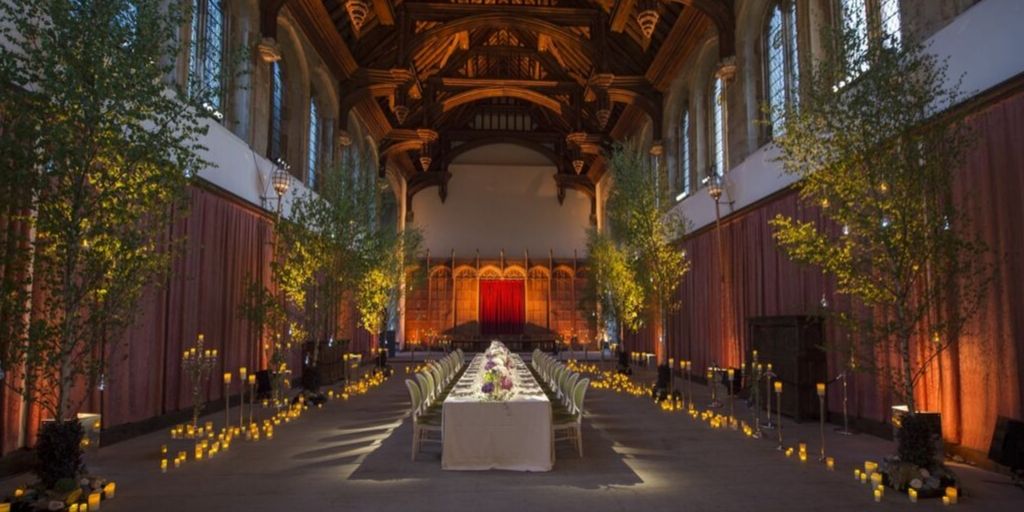 The V&A
The V&A venue stands proud as an iconic location for events and hardly needs an introduction.  The Grade I listed museum's luxurious decor provides the perfect backdrop to luxury events and few other London venues can match the V&A's history or its extraordinary collection.
The Dome is their 'bread and butter' space for having a roaring party – fitting up to 850 guests and the adjacent Medieval and Renaissance Galleries. During the summer months, the garden is glorious, filled with beautiful blue hydrangeas with a lovely fountain and pond. The last 'big' space is the Raphael Gallery, which houses the Raphael Cartoons; the treasure of the Museum. It's a cathedral size space and works beautifully for a big dinner for up to 400. And if you're after something more intimate, there are lots of other smaller spaces too (the Paintings Gallery, the Prince Consort Room, Silver Galleries).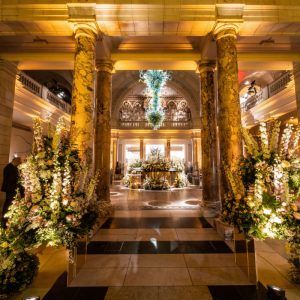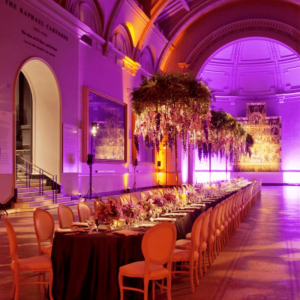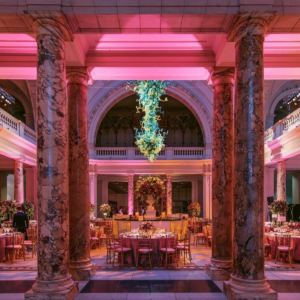 MC Motors
If you're after a worn, industrial vibe then it doesn't get much better than this. The industrial location of this East London warehouse oozes character and natural charm with an abundance of natural light. After the surrounding area was heavily bombed during the war, the whole space was adjoined by the skylighted roof, hence the untouched Victorian street running down the middle. The space is complimented by a number of wonderfully textured walls which have naturally dilapidated over the past 100 years or so. There are also a number of different floors available with parquet, mezzanine and oak boards all represented at various points. There are a large range of fantastic props displayed throughout the location and you might recognise some of it as the home of Dragons Den.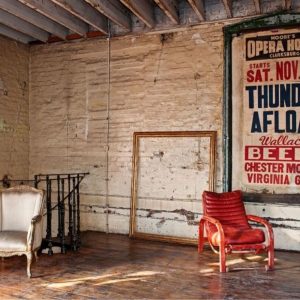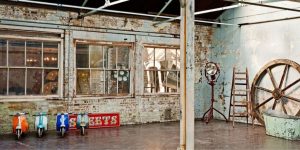 Banqueting House
A dramatic and beautiful location, Banqueting House has been hosting celebrations and banquets since 1722 and offers an exquisite space for events. The Main Hall, with its majestic double height ceilings, can hold a drinks reception of 500 or seat 380 for a dinner dance. From the original ceiling paintings by Ruben to the Ionic Grecian pillars, the facets of the hall come together to make the space bright, airy and beautifully ceremonious.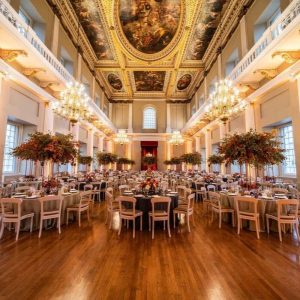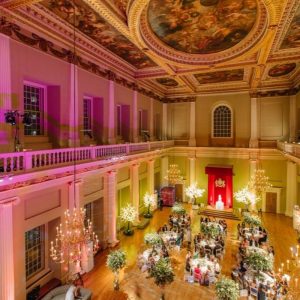 Secret River Garden
Tucked behind winding lanes and a hidden wooden gate is a stunning garden which runs down onto the River Thames. The Secret River Garden is a wild riverside lawn and woodland right on the banks of the Thames in Twickenham.  If you didn't know about it you would never know it existed, its tucked away and feels really private, a little slice of country only a few miles from central London.
Perfect for up to 150 – 200 people, guests can enjoy welcome drinks on the main lawn over-looking the Thames before following a winding path through the woodland as the stunning main marquee is revealed and a late lunch enjoyed, with views of the river through the dappled light of the weeping willow and, as the day drifts into evening and before the dancing begins, an open bonfire can be lit for guests to gather round whilst sipping drinks from a pop-up gin or whisky bar hidden in the woods.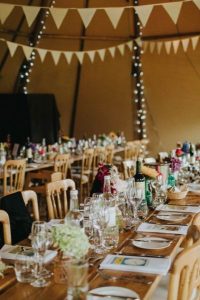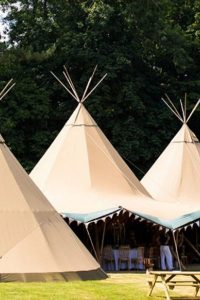 Wilton Music Hall
Home to the stars of music hall, variety, screen and the odd music video since 1859, this venue has an incredible history and is one of the very few music halls remaining. Venue hire includes the whole building, covering the bars, the Victorian staircase and the Hall with its famous barley-twist columns. As the venue is still an active theatre, it is only available to hire on limited dates, making it a truly exclusive experience. The building and individual rooms are also available for filming and photoshoots.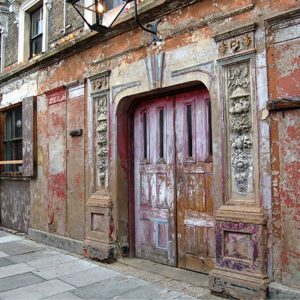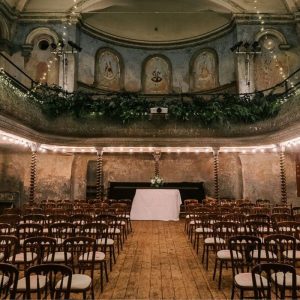 Bistrotheque
This modern restaurant in Bethnal Green, in a converted clothing factory, offers a clean, industrial private room for receptions and private dining. The space is bright, airy and elegant and is the perfect blank canvas ready to be transformed to suit your own style and tastes.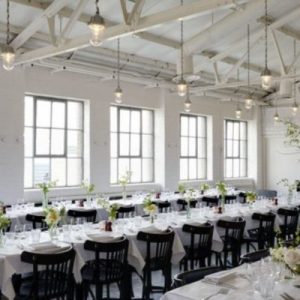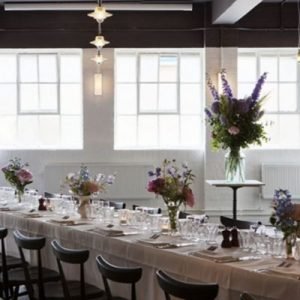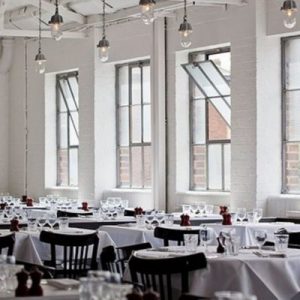 Dartmouth House
A stunning Georgian mansion set in the heart of Mayfair. Many of the stunning original features are preserved including painted ceilings, the brand Belgian marble staircase and the fine ornate high ceilings. With a selection of lounges, a bar and three function rooms it has an overall capacity of 450. It's a beautiful setting the added bonus of a courtyard, providing rare outside space.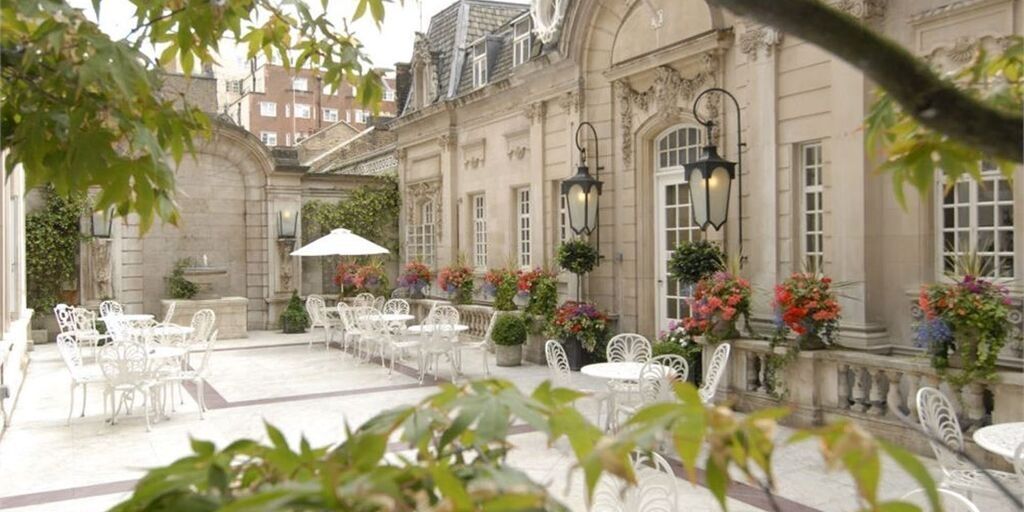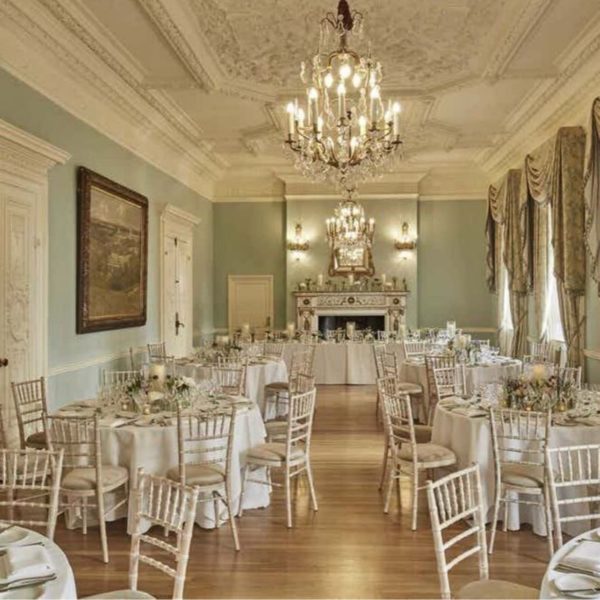 Strawberry Hill House
An 18th century gothic castle once home to Horace Walpole, the house boasts a beautifully landscaped garden and is just a stone's throw from the River Thames. And whilst you'll swoon at the exterior it's the rooms inside that will cause your jaw to drop. Full of colour, grandeur and gothic details, the venue is perfect for weddings and is but is also available for corporate hire and private dining.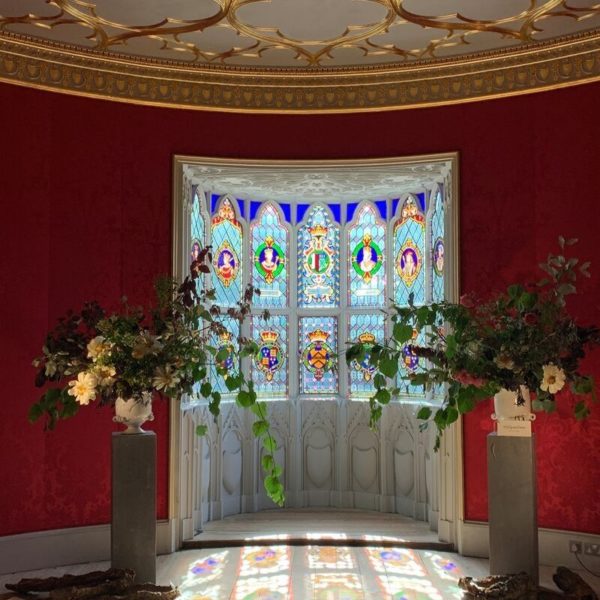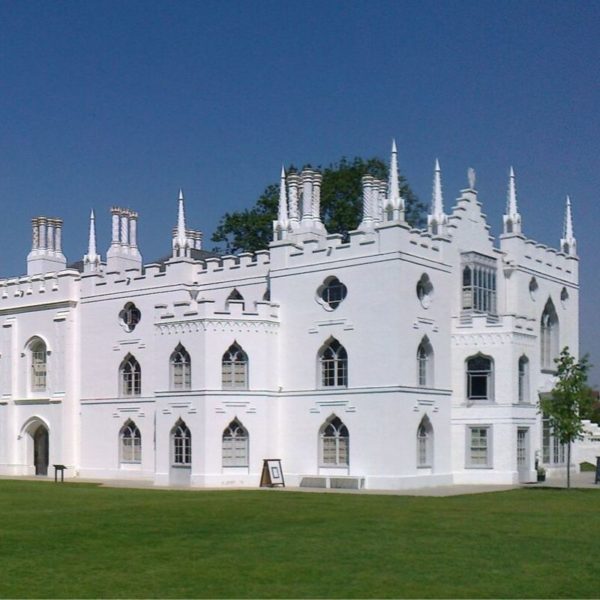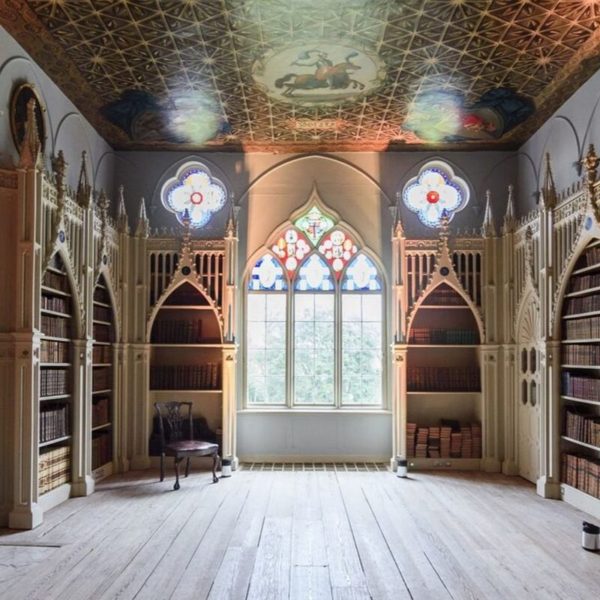 ---
Evolve Events team have over twenty years' experience in producing and styling events. The team is headed up by Gary Peters who has been voted as one of the most influential people in the events industry, listed on Event Magazine's Top 100 Club.
Here at Evolve Events we work with some of the most prestigious, unusual and new venues available. If you'd like to know more about New Venue Openings in London, venue hire options and arrange a viewing or would like our help finding another perfect venue for your event just get in touch with the team. Our event services including venue finding, set design, styling and build, AV and lighting, stage management and sourcing entertainment and quality catering. If you'd like to find out more about how we can help you produce and style your event then please get in touch and we can chat through your requirements.
TEL : 020 7610 2808 – EMAIL : info@evolve-events.com